Our Director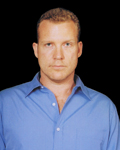 Kevin Christison
Creative Director, Sculptor, Principal Designer
As the Creative Director, Sculptor, and Principal Designer at Object Design Studio Company Limited, Kevin Christison wears a number of creative hats in our organization. He holds a BFA degree in Sculpture from the California College of the Arts and has lectured at Universities in the United States, and in Thailand as a Foreign Specialist of sculpture and bronze casting.
Christison's works have graced such prestigious collections as the San Francisco Museum of Modern Art,and the renowned sculptor relocated to Bangkok in 2002 after being awarded a Fulbright Scholarship in sculpture to lecture in Thailand's most celebrated Fine Art Faculty at Silpakorn University.
In recent years he has worked as an Architectural /Design Consultant on numerous prestigious Hospitality Projects in Asia. In addition to his pursuits in the Design realm, Kevin also conitinues to create monumental sculptures that are both commissioned and exhibited in the United States and Europe.